We think you'll love it too! We have years of experience selling land and homes in Placitas and the greater Albuquerque area--Albuquerque, Bernalillo, Rio Rancho, Algodones, Corrales.
If you are looking for that perfect piece of land or home, let us show you what is currently available. We take the time to listen to your needs and wants and show you the properties that meet those needs.
If you are ready to sell your home or piece of land, let us help you set a price and market the property to its best advantage.
Right on our website, we offer selected and full searches for that perfect property! Don't look to impersonal national websites--search here for current, accurate listing information!
A Sample of Our Listings!
Choose from the searches on the left for complete list of available properties.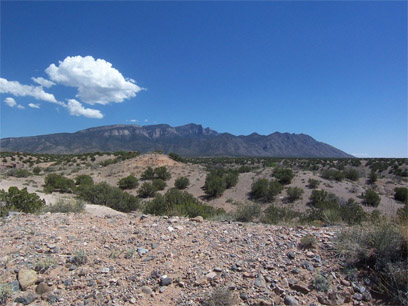 1.3 ACRES WITH COMMANDING VIEWS - NEXT TO PUEBLO LAND! $100,000. Beautiful view lot with truly panoramic views and few neighbors! Really big views of the Sandia Mtns, as well as Sunsets, City Lights, Jemez Mtns and the Mesas! This lot is at the end of the road, yet it is located just minutes from I-25. There are no covenants and no HOA, just some basic zoning! Water and electricity are only 150-200 feet away. Shared well on lot next door serves just 4 properties. The lot is fenced on the west and north sides. Zoning has 1008 sq ft minimum house size, 28 foot maximum height and requires (at least) a 2 car garage. Pitched metal or tile roofs allowed, as well as pueblo style. This is a rare lot that has no covenants and yet it is located in the west part of Placitas! Bank financing available! Forest Lane, Placitas MLS #991352 read more>
<><><><><><><>
2.7 ACRES IN BEAUTIFUL DIAMOND TAIL! $95,000. Spacious lot in gated subdivision with panoramic views, underground utilities and good covenants! This lot is at the corner of Meadows Rd. and Wild Marigold Ct. and can be accessed from either road. There is a wonderful mix of gently sloping terrain and beautiful arroyo to the west, so neighbors are not too close. Paved roads and the subdivision is gated, so there is little traffic! Beautiful area of custon southwest style homes; the covenants include: 2400 sq ft minimum house size, a guest house is allowed. This lot has sweet views to the Jemez Mtns as well as the Sandias! This is a large lot in a truly serene setting! Well system is already in place. Underground utilities include natural gas and cable. Bank financing available! Wild Marigold Ct., Placitas MLS#977954 read more>
<><><><><><>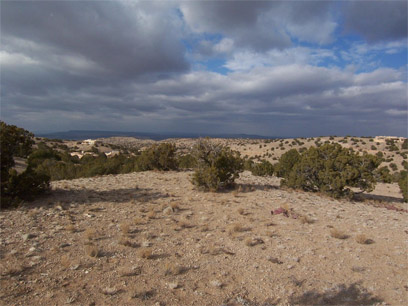 3.5 ACRES WITH WATER AND ELECTRIC - ONLY $78,000. Beautiful, gently sloping lot with plenty of usable land. This 3.5 acres is adjacent to 200 acres of Public Land, so you have a big back yard! Neighbors are not close, so this is a wonderfully private lot with panoramic views and an expansive feeling of seclusion. Covenants allow up to 3 horses, goats, sheep, etc, (swine are not permitted). Restrictions have 1600 sq ft minimum house size, 19 foot height restriction, southwest style with some pitched roofs allowed. Little traffic, few neighbors; Tres Vidas Ridge dead ends just 1/3 mile past the land! Water is already stubbed out to the NW corner. Underground utilities are there, already installed. Buyers should verify existence of all utilities for themselves. Bank financing available! 2 Tres Vidas Ridge, Placitas MLS#983602 read more>
<><><><><><>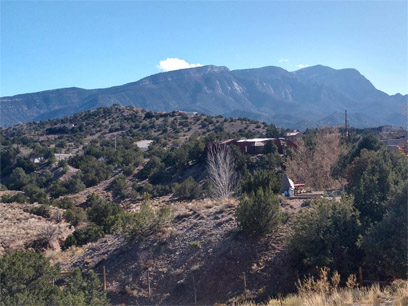 BIG SANDIA VIEW! Over 2 acres with water, electricity, phone, cable and natural gas. $109,000 Two generous building sites and privacy. Lot has gently sloping upper building site and existing road to large, lower flat building site--great for horses, studio, or casita. Impressive Sandia view from both upper and lower building sites. Minimum house size 1,200 sq. ft. with 17 ft. maximum height. Lots in the area are 2 acres for space and privacy. Quiet dead end road, just minutes to I-25. 29 Chaparral Road, Placitas MLS#980757 read more>
<><><><><><>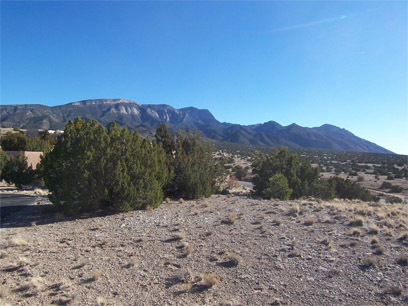 VIEWS! 1.5 ACRE RIDGE LOT WITH COMMUNITY WATER! $130,000. One of the few view lots left in this convenient part of Placitas! Water, electric, cable, phone and natural gas! Just a 15 minute drive from Albuquerque! Good restrictions: 1800 sq ft minimum house size, southwest styles... This lot has dramatic views of the Sandias, sunset and city lights. Tens of thousands of acres of National Forest land are just across Highway 165! On paved road and there are beautiful, custom, southwest style homes all around, including both neighbors. The land drops off to the south and west, so your views of the Sandias, National Forest, city lights and the western horizon are protected. You are located at the cul-de sac for extra privacy. HOA fee for the lot is just $100 per year. Bank financing available. 72 Vista de las Sandias, Placitas MLS# 985756 read more>
<><><><><><>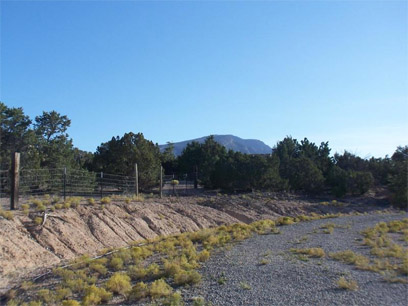 NEXT TO PUBLIC LAND! NO RESTRICTIONS! $50,000. Beautiful lot next to public land in Placitas! Level site where you can build just about anything you like! Sweet Sandia views to the south as well as views of Cabezon & the Jemez Mtns! Good area for wells; nearby wells are around 400 feet deep. Underground electric (with transformer is by the NW corner of the property. Paved (County maintained) road is only about 350' away. No covenants! No size or style restrictions; just minimal zoning! 36 foot maximum height, so you can build 2 story if you want to see even more of the views! Bank financing available. Land to the east is 3100 acres of public land, so you have half a mile of BIG BACK YARD! No restrictions, so you can have animals... chickens, goats, horses, etc. allowed! 341 Camino de las Huertas, Placitas MLS# 956516 read more >
<><><><><><>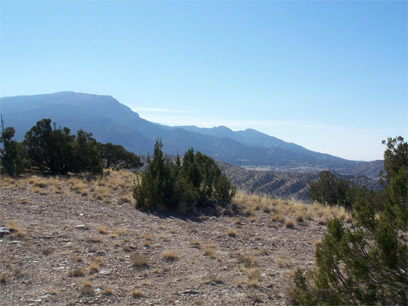 2+ ACRES FOR $40,000. Undeveloped 2.46 Acre Lot in northern Placitas. This is a King-Of-The-Hill building site! No utilities. Beautiful views all around. Ideal for off the grid living or affordable investment land. Land is mix of nearly level and gentle to steep slope. Must drill well; should be about 600-800 feet deep. Views of Sandias, Jemez, Sangre de Cristos, Cabezon and Mt Taylor. Owners may consider short term owner financing. Bank financing possible too. Reasonable restrictions: 1200 sf minimum house size. 2 acre minimum lot size per Zoning. The 5 acres adjacent to the north is also available for $30,000. Camino Halcon, Placitas MLS# 945410 read more.
<><><><><>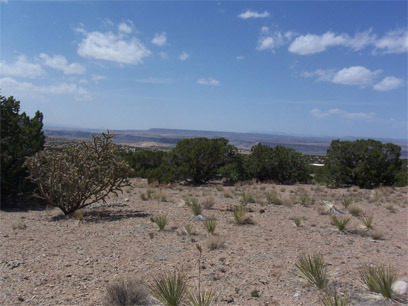 PENDING SALE. AFFORDABLE 1.6 ACRES IN PLACITAS FOR JUST $40,000. Wonderful building site with gentle slope! Plenty of buildable space! Views of the Mesas, Cabezon, Jemez Mtns & Mt Taylor! Some Sandia views too! There is even room for horses on the lot. Bank financing is available. Very reasonable covenants: 1200 sq ft minimum house size, 17' height restriction. No HOA. You may see wild horses roaming this part of Placitas! Electric transformer is by the NW corner of the lot. Good wells in the area; nearby wells are about 500-600 feet deep. The land is less than 1/4 mile from thousands of acres of public land! Palomar Road, Lot 17, Placitas MLS#990153 read more>

<><><><><><>
BACK ON THE MARKET. ACRE LOT $39,000 NO RESTRICTIONS! Affordable lot in Placitas with water & electricity in the road by the lot. This is a gently to moderately sloping lot with serene views to the east, north and west. The building lot is just off the paved county road, located on a private road that serves just 6 other properties. Access to shared well is available with no hook-up cost to buyer! No covenants and no HOA! Minimal zoning, so you can build just about any size or style home you like! Mobile homes allowed, although it may be challenging to get an off-site built home onto the building site. There are a mix of home styles in the area. Chickens, goats and horses are allowed... All survey corners are marked with t-posts. This is the least expensive lot available in Placitas that has water included! 6 Caballo Palido, Placitas MLS#985424 read more>
<><><><><><>
FEATURED Properties shows you land and homes specifically listed by Placitas Realty.
Placitas HOMES Only shows all homes currently listed for sale in Placitas.
Placitas LAND Only shows all land currently listed for sale in Placitas.
Search ALL New Mexico Properties allows you to look for a property in any location within New Mexico.
Realty Watcher is a special feature that allows you to target your search by price, location, size and other options. It will send you e-mail notifications to let you know what's "new" on the market! You can also save favorites and share listings with others.
Contact our office at 505-867-8000 or contact our brokers:
Dave Harper at 505-263-2266 (voice/text)
placitasdave@gmail.com
Janice Fowler at 505-250-6946 (voice/text) placitasjanice@gmail.com
Jan Baker at 505-235-1927 (voice/text) placitashomesandland@gmail.com