Our Office is easy and quick to find on the highway through Placitas!
We are open Monday - Friday from 9:00 a.m. to 5:00 p.m. and on Saturday from 10:00 a.m. to 4:00 p.m. and Sunday from 1:00 to 5:00. We'd love to schedule an appointment to meet with you, please contact us to set a time.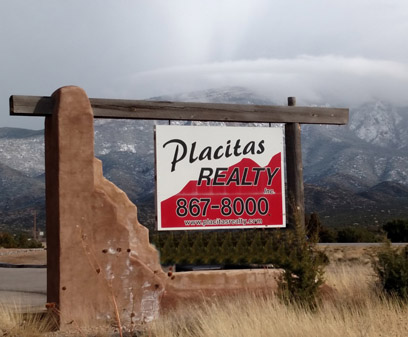 Directions: Placitas is reached from I-25 by taking Exit 242. Turn east at the exit (toward the mountains!) on Highway 165. Continue about 2.4 miles. Watch for the Placitas Realty sign on your left just before you make a left-hand turn onto Homesteads Road. The street address is 03 Homesteads Road.
Contact our office at 505-867-8000 or send an e-mail to info@placitasrealty.com
You may also directly contact our brokers:
Dave Harper at 505-263-2266
placitasdave@gmail.com
Janice Fowler at 505-250-6946 (voice/text) janice@placitasrealty.com